In our role as a service design team, we have been in a collaboration with various stakeholders, namely service owners, domain experts, team heads and management team, over the past few months. Throughout this experience, we have identified a common challenge faced by many service teams: most of the service teams struggle to keep up a balance between the team capacity and the number/quality of services we offer. As a result, we, as a service design team, have found it increasingly challenging to provide recommendations on service maintenance, launch, or discontinuation, as well as to effectively measure any improvements.The lack of a clear set of criteria has made it difficult for our organization to make well-informed decisions. Although criteria and metrics have not traditionally been a common approach in the public sector, it is now crucial to adopt such a mindset in order to avoid falling into a confusion in the future. 
As part of our ongoing DeepDive service design project, which focuses on researcher's publishing experience, the utilization of criteria has become a crucial step in selecting opportunity areas for the project's next phases. In order to achieve this goal, we invited the management team to participate in a "criteria selection" workshop. This allowed us to gather their valuable input in order to establish a set of preliminary criteria that aligns with the organizational needs. At the same time, us as design team has been working on drafting criteria based on user needs gathered from the ongoing user research we are conducting. The goal of that workshop was to collaboratively formulate a comprehensive set of criteria that can be tested and refined through the "I publish" project.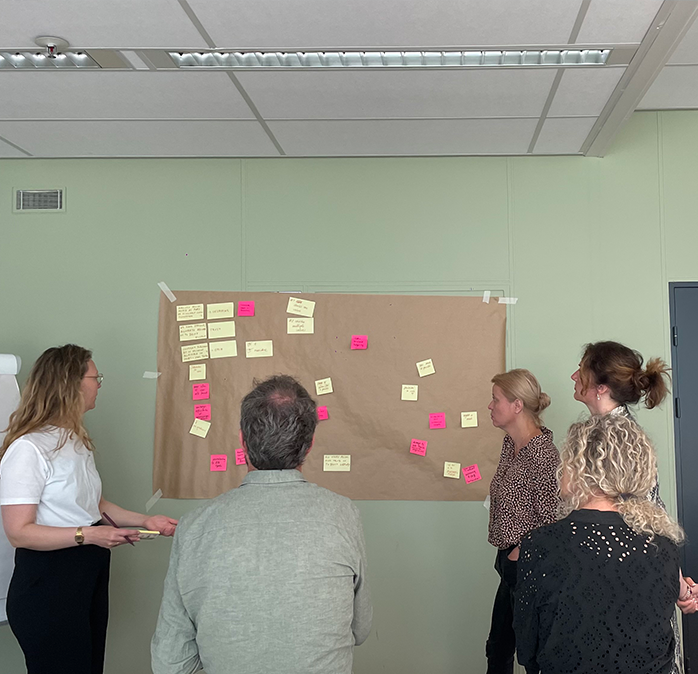 During the session, the management team and design team worked separately, with the management team focusing on determining business/organizational criteria and the design team concentrating on customer/user criteria. Here is the list of identified criteria sets:
Customer/User Criteria:
1. Increase clarity: Does this opportunity offer clarity about the process and what the researcher can expect?
2. Impact at least 2 user profiles: Does this opportunity fulfil the needs of at least 2 of the researcher profiles 'Star', 'Know-how', and 'Up-and-coming'?
3. Increase service promotion amongst peers: Does this opportunity motivate the researcher to share his/her experience with others?
4. Connect with the right audience: Does this opportunity help to connect the researcher with other like-minded researchers and practitioners in industry? Is it a leverage point to increase the researcher's visibility and initiate new collaborations?
5. Increase efficiency: Does this opportunity contribute to the efficiency of the usage of our services (e.g. shorten the review time, a simpler process, less steps)?
Business/Organizational Criteria:
1. Checks the TU Delft library value Inspiring: Does the opportunity contribute to services that are inspiring, as well as recognized as integral part of the scholarly communications ecosystem?
*Inspiring e.g., foster collaboration, contribute to engaging content, positive impact in field, researchers feeling encouraged to share findings
2. Checks the TU Delft library value Trust: Does this opportunity align with our commitment to understanding and respecting the needs of our users while maintaining a precise, accurate record of TU Delft output?
3. Checks the TU Delft library value Open: Does this opportunity ensure content published by us remains accessible in short and long term?
4. Increase operational efficiency: Does this opportunity contribute to the efficiency of the operation of our services (e.g., required time and effort of staff, a simpler process, less steps)?
5. Improve awareness: Does this opportunity help the researcher understand the benefit of the service offering, so it is chosen over alternatives?
The determined criteria sets were used to prioritize the opportunities that arose from the DeepDive 'I publish' projects' phase 1. All stakeholders, including the design team, rated each opportunity using sets of criteria. Consequently, 17 opportunities were ranked and placed on a decision matrix.