The Service Design Global Conference 2023 is a must-attend event for professionals looking to gain fresh perspectives and inspiration. This year, our team had a unique experience, attending both on-site and virtually. 
For Dilay, attending in person at Radialsystem in Berlin was an amazing experience. Being surrounded by designers from all over the world and listening to their speeches in person was truly inspiring. SDGC offered great networking opportunities to connect with like-minded and inspirational designers quickly. The pre-conference events also provided a chance to learn about the latest trends within the Berlin designer community.
For us attending virtually, we decided to watch the conference in style, renting a beautiful venue with a large screen. What made this conference truly special was our virtual attendance while surrounded by our fellow colleagues. It enriched our discussions, allowing us to share our thoughts between sessions and relate the talks to our work. Here are some of our highlights: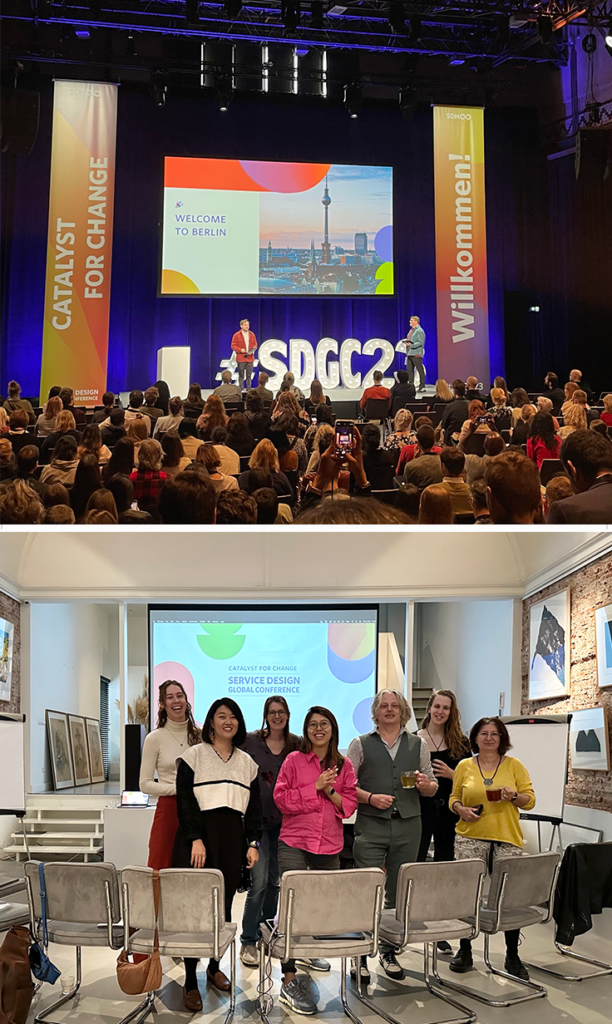 Challenging the everyday
The Global Service Design conference is a great way to break free from our everyday routines and gain a broader perspective. It makes us question why we do what we do and provides plenty of inspiration. This year's theme, "Catalyst of Change," sparked our curiosity. The talks covered a wide range of service design topics, from ethics to AI, journey operations, and service design in the public sector. It showed us how service design is shaping the future.
Lessons in Ethics:
Our journey began with a powerful message from the "Do not harm" keynote (Do No Harm framework for design, by Giulia Bazoli and Pardis Shafafi). It reminded us that design is a powerful act with far-reaching consequences. We were encouraged to consider the consequences on people, communities, and the environment.  Design with the next larger context in mind and even beyond – the planetary context, while adopting a framework of "what? so what? now what?". 
Resilience in Public Service Design:
The notion that "Designing public services isn't a sprint. It's a baton relay ultramarathon" offered hope for the long, challenging journey of public service design. We learned that systems naturally resist change, so it is important to build resilience to facilitate meaningful transformation. (The long slog of public service design, by Martin Jorda and Kara Kane)
Unlocking AI's Potential:
We learned that AI can be a valuable tool when integrated thoughtfully with design techniques. What's crucial is not just what AI can do, but also when and how to use it. It's about recognizing its limitations and ensuring it aligns with our broader design goals. (Augmented Intelligence: Using Generative AI in Participatory Design, by Cameron Hanson)
We were reminded that in the end, service is about delivering value, "Service is the application of resources for the benefit of others or oneself. People mostly don't care what or who delivers it." (Designing Services with Generative AI, by Mauro Rego)
Journey Operations, the Power of Play and Humility:
We delved into Journey Operations as a human-centered information system, encountering the persistence of silos in agile landscapes. Additionally, we were reminded of the importance of humility in the roles we assume: "Humility is the accurate perception of our limitations." (Journey Map Ops Beyond Sticky Notes, by Marc Stickdorn and KA McKercher)
The concept of play and curiosity as catalysts for change sparked our interest, with structured vs. emergent play and inward vs. outward thinking offering new perspectives. The speaker was a truly inspiring individual who brightened our day with captivating storytelling and a beautiful narrative. (Serious Nonsense – Service Design needs to lighten up: Play & Curiosity as catalysts for system transformation, by Kristofer Kelly-Frere).
A Touch of Luxury, Reflection, and New Discoveries:
Being in a fun and beautiful location alongside our colleagues (and our furry friend, Pepper 🐶) really added to our experience, enriching our reflections turning the conference into a more valuable and engaging event. We even stumbled upon new words like "Fiefdom" during our journey and had fun taking turns spinning the wheel for the Design on Stock Chair.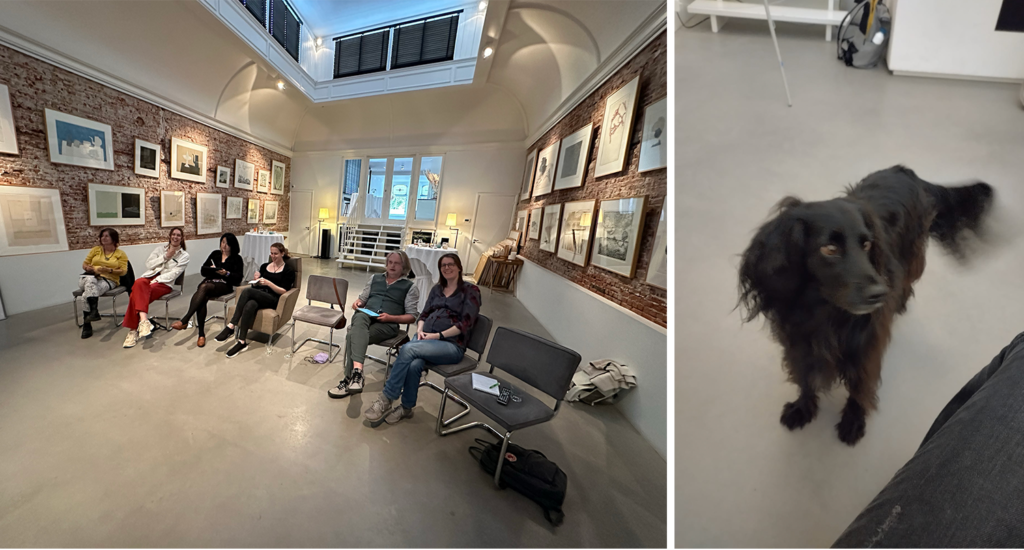 Our team's experience at the Service Design Global Conference 2023 was truly inspirational. It reminded us of the importance of ethical design, prepared us for the challenges in public service design, and introduced us to the world of AI. The conference encouraged us to view things from new angles, fostering creativity and expanding our understanding. It was an inspiring journey that will influence our work in meaningful ways. We are already looking forward to next year's conference!